7 reasons why alternative payment methods should matter to your business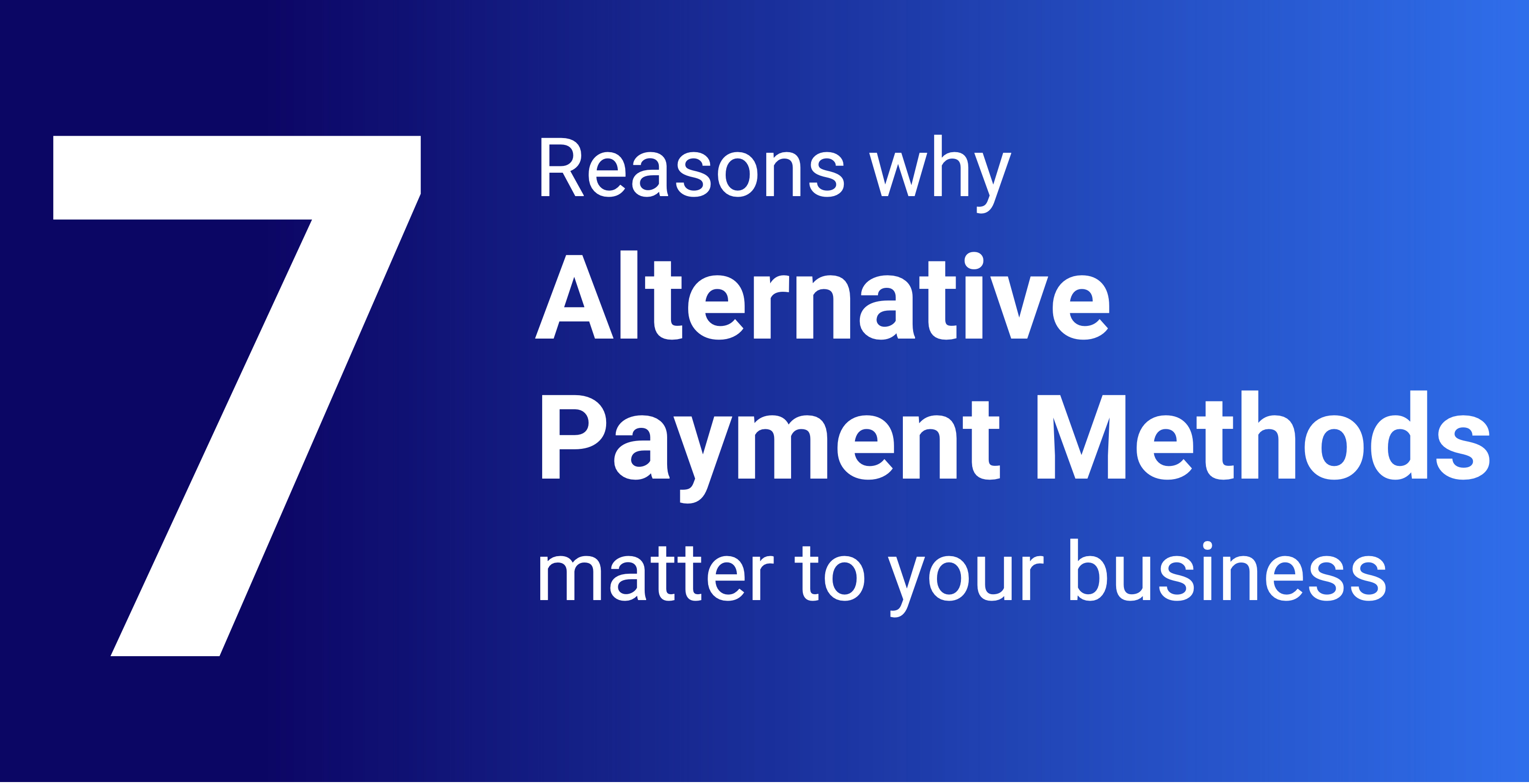 Credit and debit card payment methods are typically the most popular payment solutions in developed markets with Americans, for example, using card solutions for 55% of all payments in 2020. However, the use of alternative payment methods (APM for short) dominates the world's fastest growing markets such as Africa, Asia, or Latin America.
What are alternative payment methods? 
APMs refer to any form of payment that isn't a major international credit card brand.
Domestic cards, cash-based vouchers such as Boleto in Brazil or Oxxo in Mexico, mobile payments, digital wallets — such as Apple Pay and Google Pay — or local bank transfers, are all considered alternative payment methods.
If you are looking into emerging markets, check our 7 reasons why you should consider alternative payment methods in your payment strategy:
1. The unbanked: a challenging opportunity
Only 20% of eCommerce shoppers in emerging markets actually hold a credit card. Credit card penetration in these markets is largely slow due to a variety of reasons such as a lack of accessibility and consumer confidence, alongside concern over card fraud. However, smartphone penetration is way higher, reaching 70%, or up to 80% in countries like Argentina or Mexico.
 
You don't want to miss that 2 billion emerging users opportunity.
2. Alternative payments are rising in preference and use
Cards and cash are falling in preference and usage, accelerated by the recent pandemic, as customers are opting for less risky and more accessible payment solutions. In Africa, mobile money is experiencing rapid growth due to improved access to technology, preference in contactless payment options, and difficulties in accessing traditional financial services such as banks: The number of registered mobile money accounts grew to over 1.2 billion globally in 2020 – double the forecast, according to the latest annual GSMA report. Mobile money transactions across the African continent alone amounted to USD 495 billion, making the continent the leading market in mobile-money services.


3. APMs are prevalent – and diverse
Preference varies from country to country and its integral to identify which countries use what when trying to enter a market. 
India has one of the world's most exponential eCommerce growth rates and Unified Payments Interface (UPI) is a popular option that provides customers within the country access to over 200 banks on a single online interface. In November 2020, Brazil, Latin America's largest online market, launched Pix, an instant payment solution, having the fastest adoption rate around the world. In May 2021, seven months after the Pix launch, 83 million individual users and more than 5.5 million companies registered more than 242 million Pix keys.
This trend in regions opting for APMs is also prevalent in Southeast Asia where eCommerce has grown by 63% in 2020.

As technology advances and APMs become more commonplace, identifying a payment gateway that can cover the popular options across different regions is rapidly becoming a must for businesses.
4. Lacking customers' preferred payment method kills conversion
An Oxford Economics research showed that 56% of consumers said that if they couldn't use their payment method of choice, it would permanently put them off shopping on a site. On this matter, 52% of consumers in Latin America prefer using local credit and debit cards, 28% defer to cash, 15% rely on international credit cards, and 5% opt for bank transfers.
Know your customers and their payment preferences to boost your payment acceptance rates.
5. Maintain your unique UX regardless of country or region
It is important that users subscribing for their Shopify Subscription or their Microsoft Office Package have the same user experience whether they are opting to pay with credit cards, cash, installments, or any other preferred payment method. 
Engaging with APMs afford businesses the opportunity to regulate and maintain a singular user experience as opposed to crafting several experiences that can become numerous, troublesome, and cumbersome as expansions to more regions occur. 
The localized, unique user experience comes from the alternative payment methods offering customers familiar payment solutions, making eCommerce available to everyone, regardless of their access to banking services.
6. Compete like a local
In emerging markets, APM is often synonymous with local payment methods. Local merchants are typically offering local card-based checkout options, as well as a plethora of APMs, such as mobile money, eWallets, cash-based solutions, QR codes, or SMS-powered local payment methods.
If you come in with these highly localized solutions, not only will consumers perceive familiarity with your brand and find it in sync with local habits, but it will give you the same edge as a local company in terms of market reach and profitability potentials.
7. Build trust and brand awareness, and increase sales conversions
Offering transaction methods that customers are familiar with build trust, user experience, and reliability while providing a frictionless process that minimizes cart abandonment. In 2020, Invesp had the global average shopping cart abandonment rate at 65.23%, with Asia and Latin America as two of the regions with some of the highest abandonment rates.
While there are a variety of cumulative reasons for this, a lack of alternative payment methods and experiencing frustration along the payment process are factors that cause cart abandonment.
APM boost acceptance rates in emerging markets
The growth occurring in emerging markets will only continue to grow, and that growth means one size does not fit all in payment schemes. As markets develop and grow, so will their payment options and preferences. Along with this growth, it will become integral for businesses within emerging markets or seeking to penetrate such markets to find a payment gateway that provides the most solutions in a single package.
Learn more about alternative payment methods or contact us to understand these markets' payment preferences better.