dLocal Shenzhen, China Conference Recap: Monetizing Blue Ocean Markets: LATAM and India
dLocal partnered with industry experts to bring best practices for local payments, logistics, marketing, taxation, and regulation in both the LatAm and Indian markets.
Imagine you are a Chinese merchant who wishes to gain actionable tips on how to succeed in Latin America and India without leaving China, and get it all in your language, Chinese.
This is what about 100 attendees experienced last week in Shenzhen, at the heart of the Chinese Silicon Valley.
The event gave merchants the opportunity to learn what is needed in order to expand into those markets, personally connect with local experts, form relationships that will help them year-round, and gain the confidence they need to succeed in those markets.
Here is a recap of the topics covered at the event:
Getting social is primordial
MeetSocial is Facebook's authorized reseller in China. MeetSocial is a renowned brand for helping enterprises advertise on Facebook & Instagram.
Rex Hai from Feishu, Interactive Business Development Manager at MeetSocial, spoke about how to use Facebook to build differentiated strategic barriers in LatAm and India. Rex explained how China has unexpectedly turned into one of Facebook's biggest client. According to Rex, more and more consumers are placing orders and shopping through WhatsApp and Facebook Messenger.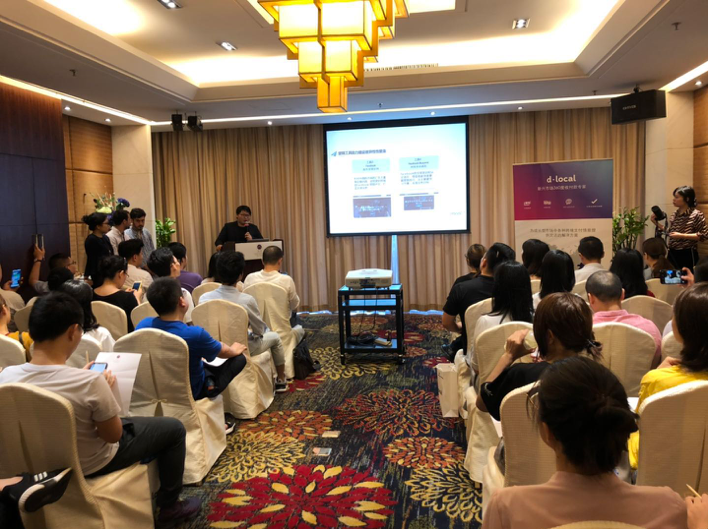 "Yes, your company can manage its own Facebook site, if you prefer. But even customers who choose this option, still want MeetSocial to take over the page and to troubleshoot issues as they surface, and make sure the page is aligned with current trends," says Rex.
Brazilian e-commerce: marketing best practices and most used payment methods
João Cappello, former Banggood Brazil Country Manager, currently Google Ads manager at Yihai, also spoke about the power of social media, focusing on Brazil.
Brazilian e-commerce maintained its growth curve in 2018 and recorded R$53.2 billion in sales. Chinese merchants might have seen a reduction in purchases, mainly due to the long delivery time, the rise in the dollar and consequent increases in pricing (an increase of 14.4% vs. 2017), and the new fee of R$15 by the Brazilian delivery company, Correios, active since August 2018.
But it is not all bad news for Chinese merchants. Brazilians are still opting to get most of their electronics from abroad, and Chinese merchants are also learning how to take advantage of special promotions on seasonal dates, and the possibility of using local marketplaces—all while adapting their website to the Brazilian market, including offering local payments such as Boleto and installments.
The main seasonal dates in Brazil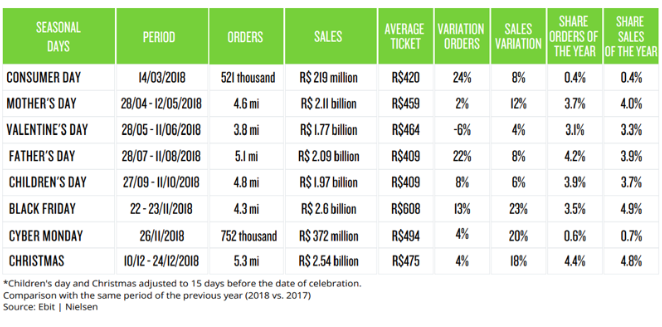 Google ads—Increase your ROI
While using Facebook is recommended for building differentiated strategic barriers, Chinese businesses recognize the fact that using Google Dynamic Ads can improve conversion and ROI.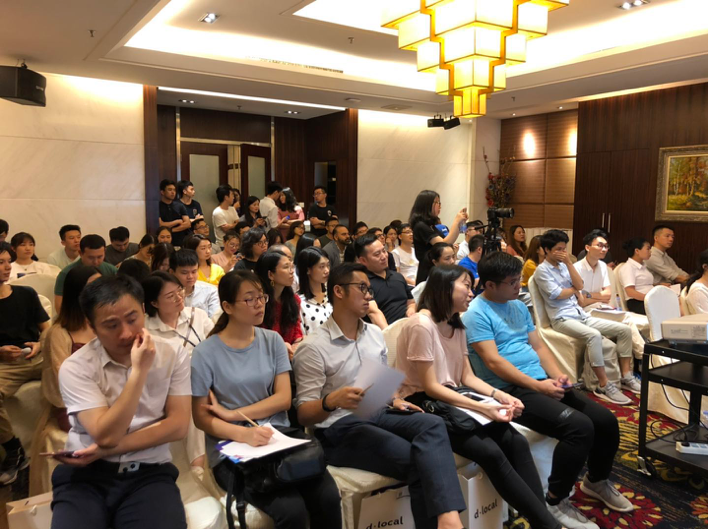 With that in mind, Simon Wang, General Manager of Yihai, Google Partner agency, spoke about the use of keywords and leveraging remarketing to increase conversion. Simon said,
"Having a partnership with Google allows us to offer a broad range of possibilities to Chinese merchants, extending a superior retail experience to consumers all over the world."
Regulation and risk management
With real-time translation to Chinese, Sofia Ghuisolfi, Head of Business Support and Operations at dLocal, spoke about "Taxation, regulation, chargeback, and risk management in emerging markets."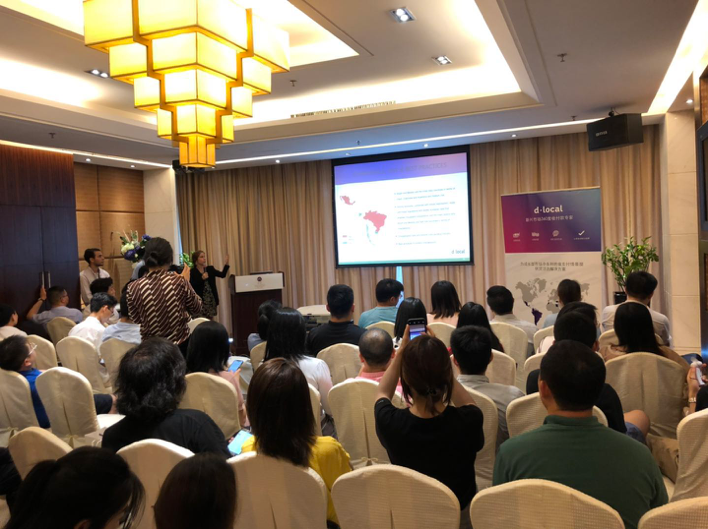 Sofia covered the first steps when entering the LatAm markets:
Incorporating a local entity—takes two to six months,
Dealing with AML and KYC compliance processes—significantly varies by country,
Dealing with local authorities—tax and regulatory issues may arise when a company is locally incorporated in a specific market,
Dealing with customer complaints and having customer service in place—due to strong consumer protection regulations,
Funds expatriation process—rigid processes in some countries while very flexible in others.
Sofia also discussed fraud prevention strategies in LatAm, and explained how the whole process works. She shared some internal data about high risk countries, requirements for remittances, favourable taxation for cross-border payments, the benefits of working with a local partner as well as what dLocal has been doing to improve the merchants experience while using dLocal products.
India—Great market opportunity
Darpan Shah, Head of APAC at dLocal, made his way from India to talk about "Challenges and Opportunities for Growth" in his home country. Darpan presented in-depth coverage of India's popular payment method—the UPI (Unified Payments Interface).
He spoke about the fast-growing economy, the fact that bank transfer is becoming a common payment method for e-purchases, and explained how UPI became a game changer in e-commerce in India and how dLocal optimizes it for merchants.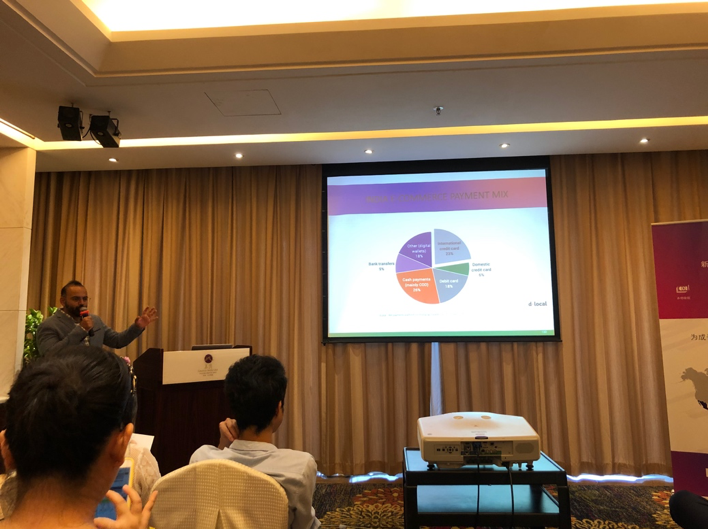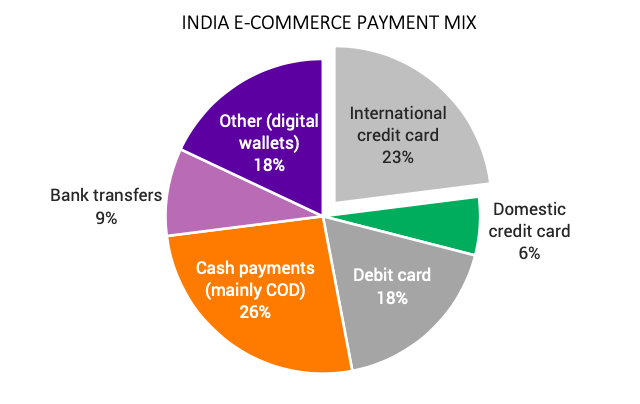 Darpan's speech was followed by the Deputy General Manager of AllJoy logistics, Lin Zhuangchao. AllJoy offers logistics services in India, Turkey, Pakistan, and the Middle East. Mr. Lin explained the supply chain in India and emphasized the importance of having its own warehouse in India.
Conclusion
"It was great content! I absolutely loved the variety and the speaker choices. There was something for everyone." Qiuping, KOL marketing, at a leading Chinese e-Commerce Seller.