dLocal COO Sumita Pandit named to Top 25 Women Leaders in Financial Technology of 2021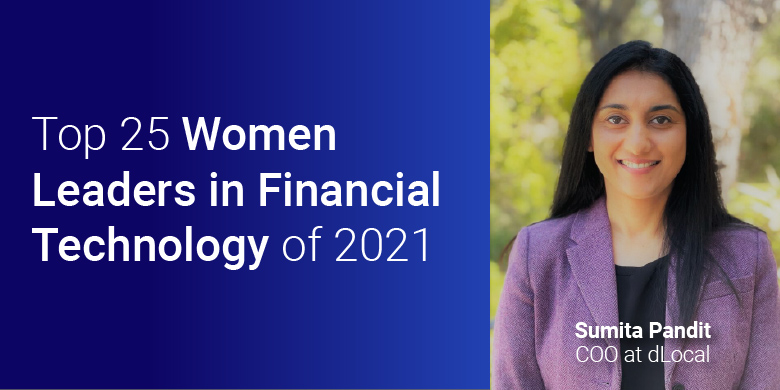 As the financial technology sector continues to evolve, thousands of women in leadership roles help propel their companies and its products to more competitive positions in the market. We would love to be able to celebrate ALL women working within the FinTech space, but today we want to turn the spotlight to our COO Sumita Pandit, named as a Top 25 Women Leaders in Financial Technology of 2021 by The Financial Technology Report.
Sumita Pandit is the Chief Operating Officer at dLocal (NASDAQ: DLO), a global payments platform enabling merchants to reach billions of emerging market consumers across 29 countries in Africa, Asia, LATAM, and the Middle East. More than 325 companies rely on dLocal to accept over 600 local payment methods in emerging markets and issue millions of payments to their customers, agents, and sellers worldwide.
Sumita has 18+ years of experience in investment banking, advising companies across verticals in fintech, including payments, financial software, neo-banks, and insurtech. Prior to joining dLocal, she was a Managing Director, Global Head of Fintech Investment Banking for J.P. Morgan. Before J.P. Morgan, she worked at Goldman Sachs. Sumita received her MBA from The Wharton School at the University of Pennsylvania, where she was a Palmer Scholar and earned her undergraduate degree in Electrical Engineering from India.
"Stay in the game and do not overthink challenges"
A first-generation immigrant, Sumita arrived in the U.S. more than 15 years back determined to make a mark as an investment banker on Wall Street. Sumita's advice to all women at the workplace, especially in their early family formation and parenting years, is to "stay in the game and not overthink challenges". She urges all women to make their own rules, have a reverberating voice, remain authentic, and inspire each other by sharing personal lives more openly at the workplace.
At dLocal, Sumita oversees client management, marketing, investor relations, and corporate development. Since joining dLocal in April 2021, Sumita has led the company's successful listing on Nasdaq. She has worked with multiple high-growth fintechs over the years and leveraged her past experience in creating a compelling and differentiated positioning for dLocal.
Congratulations to all the women pursuing their professional career through hard work, talent and determination.